On February 17, 2023, we had an AMA with Mailchain. This project was the main focus of this AMA session. In this AMA, we gathered some excellent questions from the public. Additionally, Mailchain provided the public with thorough explanations about their project. Let's read this article to better grasp what the AMA says.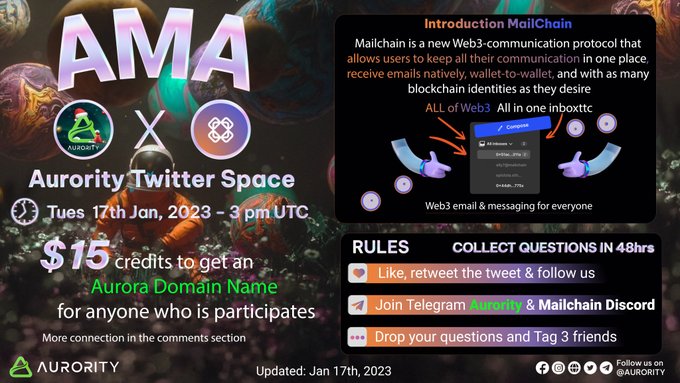 Introduction
Aurority: Hi guys, I'm Landon community builder with Aurority. We update the latest information on Near Protocol about the ecosystem, analyze data, analyze projects, provide instructional content, and support users on how to use and integrate into the ecosystem. Welcome to a wonderful AMA with MailChain. Can you introduce a little bit about yourself, the project, and the members?
Aurority: Can you introduce a little bit about yourself, the project, and the members?
Mailchain: My name is Megan. We are about love communication. If we could just wait a few minutes here, I want to get our CEO Tim on Space. He'll do the formal introduction. We are so excited to support the .aurora domain now. So any user with .aurora address now can email, which is super exciting.
Answer the question from the community
Question 1
"Tell me more about the big picture of Mailchain?"
Mailchain: Each new software era has a messaging protocol: Instant Messaging in the 1990s, SMS in the 2000s, WhatsApp, and Telegram today. Web3 represents a giant leap forward in the evolution of the internet. But where core technologies like blockchains and smart contracts are well into maturity, Web3 communication is still in its infancy. Mailchain aims to become the email and messaging standard for Web3. It is both an open-source protocol and a web-based application.
Question 2
"What's the main problem Mailchain is solving – especially for Aurora — and how has it solved that? "
Mailchain: Web3 users cannot easily send and receive messages from their blockchain identities, or wallets. Most communication happens through instant messaging, social media, and community servers. Keeping track of valuable, relevant information, such as NFT mints, DeFi positions, and DAO votes across these channels can become overwhelming, confusing, and pose a privacy risk.   Mailchain makes secure and easy Web3 communication a reality. Designed to resemble and function like traditional email, users can send end-to-end encrypted mail using a Mailchain account or any personal blockchain addresses for no charge or gas fees. The ability to add multiple wallets to one inbox creates one private home for Web3 activity.
Question 3
"Can you walk me through the user experience?"
Mailchain: Web3 users can send and receive emails natively, wallet-to-wallet, with as many wallets or blockchain identities as they want.  Anyone who has used traditional email will immediately feel at home in their inbox. All actions, including "Compose" and "Send," are intuitive. Adding wallets, such as MetaMask, to a @mailchain address, is straightforward and secure, as Mailchain never asks for private keys. Once added, users can send and receive rich text messages, including gifs, from their wallets. The end-to-end encryption is abstracted away, so it feels first and foremost convenient, with all communication threads in one place.
Question 4
"Web3 Messaging is up and coming – what sets your project apart?"
Mailchain: It's not Web3 instant messaging; it's Web3 email, acting as a secure home for all relevant and valuable asynchronous communication that relates to a user's on-chain activity. Mailchain is more than just an app; its Web3-native communication protocol, is extensible so any developer can build their own apps to make Web3 life simpler. 
Question 5
"How can Aurora users take advantage of Mailchain?"
Mailchain: Use .aurora to send emails – set up your wallet in Mailchain, resolve the .aurora domain and you can now send messages.
Conclusion
Aurority:  "Thank you and Community for being here today. Don't forget to join and follow Mailchain's Twitter. I am sure that the community will be looking forward to Mailchain's event in the near future.
In addition, you can participate in many other great community activities organized monthly by Mailchain. I believe it will be very interesting and exciting.
And we have another event for the community. Follow me to get a chance to receive the reward and explorer the Ecosystem
We had a great Q&A session today with lively community discussion, do you have any last words to say to our community?"
Mailchain: I would like to thank the community. Thank you so much. Goodbye!
You can listen to the Recording of the AMA:
Contact us:
Mailchain                 Twitter |   GitHub   | Website | Discord
Aurority                    Twitter | Telegram  | Website  | Instagram | Facebook
Nearity                       Twitter | Telegram  | Website  | Instagram | Facebook