On January 19, 2023, we held an AMA with Attarius. This AMA session revolved around the topic of the Attarius project. We collected some good questions from the community during the AMA Attarius also gave full answers about their project to the community. Let's read this article to understand the content of the AMA.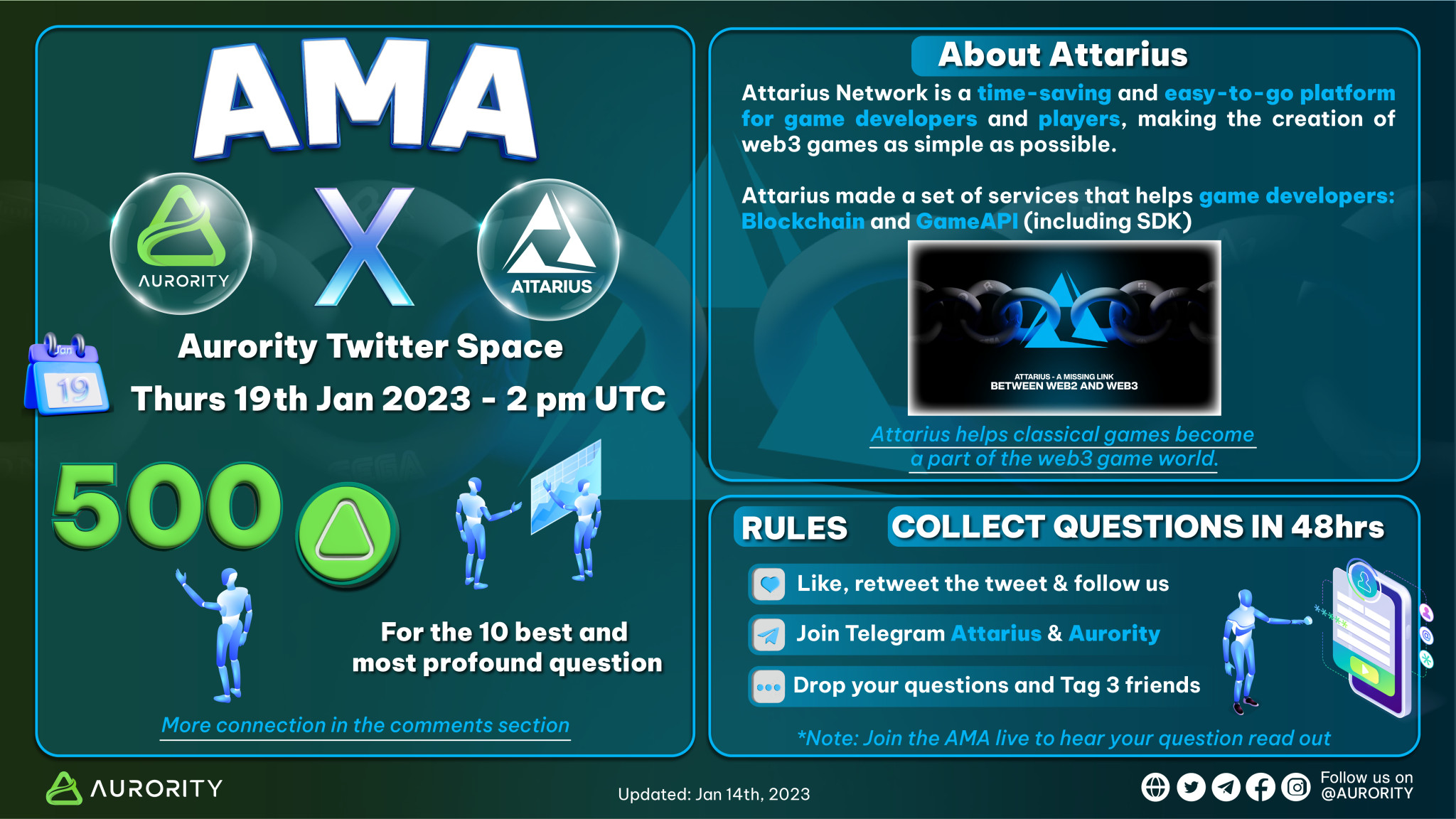 Introduction
Aurority: Hi guys, I'm London, the Community builder with Aurority. We update the latest information on Near Protoco about the ecosystem, analyze data, analyze projects, provide instructional content, and support users on how to use and integrate into the ecosystem.
Welcome to a wonderful AMA with Attarius
Aurority: Can you introduce a little bit about yourself, the project and the members?
Attarius: Hello everybody, my name is Andrey. I am the CTO of the project.
Answer the question from the community
Question 1 from Oliver
"The gap between traditional gamers & blockchain gamers is still so big. Many traditional players can find it difficult to play NFT games, How can @AttariusN bridge this to attract more traditional player to your games?Do you have plan to educate about the benefit of NFT games?"
Attarius: We believe that the best way to bridge the gap between traditional gamers and blockchain gamers is to create a comprehensive onboarding experience for traditional gamers. This experience should include tutorials and guides on how to get started with NFTs and blockchain games, as well as integration with existing gaming communities to ensure a smooth transition. It is normal to have an educational component, especially when it comes to new technologies.
At the same time, it is vital to develop more user-friendly interfaces, as we know that the majority of users find it difficult to onboard to web3 applications. We also see this issue and working on an all-round ecosystem with special universal authorization, like social logins, as well as a special all-in-one wallet, that will provide 'gasless transactions' and 'dust free' balances among other friendly features, directed to the average user.
Question 2 from rezadeli
"You provide various tools and services for creators, do you have any products that interact directly with players and what benefits these products have for users?"
Attarius: We are building an ecosystem not only for developers but also focusing on the users/gamers side. Technology should enable and facilitate the creation, and not be a barrier.
With our wallet, we not only facilitate the cross-chain transfer of NFTs for the users, but also create an extended wallet, that addresses the pains of difficult on-boarding of users, confusion with multiple coins and gas fees, and token 'dust' that is common with existing solutions.
Question 3 from Saltima
"In the initial stage of the platform's launch, what kind of benefits will you bring to the early-bird users of the platform, is there like rewards or giveaways for the users?"
Attarius: Yes, we plan to offer a variety of rewards and giveaways for early-bird users of the platform. This includes discounts on subscription plans, exclusive access to early-bird features, and exclusive collaborations with our partner gaming studios. Also, stay tuned with our social media, as we are holding AMA sessions with different communities, and also stay tuned for more giveaways and contests.
Question 4 from Kareem
"Users experience is a very important issue in most projects. Does your project focus on this? What have you done to bring the best user experience, especially to new users?"
Attarius:  As for gamer's UX, take general authorization in crypto games. This is a horror now for someone who is not familiar with blockchain and is coming from classic games. Set up some kind of wallet, save all the keys, make a transaction. And when do you actually start playing, right?
Right there we lose 70% of new players, just at the start. Way out of this situation – to make a normal authorization through simple login, password, or with social networks. All crypto operations will be under the hood.
Then, once onboarding is done. The first major hurdle is overtaken, even if there are mechanics that can not be hidden, they need to familiarize the players gradually.
And in general, having a single interface for managing your NFTs, it's also about being user-friendly. And this is the part we are implementing in our wallet.
Question 5 from sambola rasana
"Attarius Network Is Very brilliant & interesting project at its early stage. Do you guys have plans to Increase visibility of the project by participating in public events ? How can USERS generate passive income from Attarius ecosystem?"
Attarius: We have visited over 26 conferences over the past year, but as a project in the building phase, our main priority was with the development of the product. As part of our next step, and go-to-market strategy we are building the community around our project, which is why we take time to participate in AMA sessions, engaging with communities that are close to our target audience.
As part of our social and marketing approach, we are also opening a web3hub in our office base in Abu Dhabi. it is a physical space dedicated to web3 innovation, education, sharing of ideas, and scaling adoption through bringing more projects into the web3 and our ecosystem. That is a big step in community development and awareness of our project and ecosystem.
As for the Attarius ecosystem, we are planning to have staking.
Question 6 from AIRDROPCUAN
"It says on your page that you are the first and only all in one NFT ecosystem for the game industry but we've seen a lot of game industry focusing on NFT or adding NFTs to there gaming ecosystem can you please enlighten us more on this?"
Attarius: That is true, and we stand by that statement. Our developer stack covers all web3 development needs are covered – nft, login users, creating smart contracts, creating users' non-custodial wallets, etc., as well as focus on the user/gamer side as well.
We also offer zero-code game integration services, helping developers to quickly and easily integrate NFTs into their existing titles. Additionally, our platform is designed to be a one-stop shop for game developers, offering an intuitive user interface and an easy-to-use API platform so that developers can quickly and easily manage their NFTs.
Question 7 from Lee Di
"How does the API handle user authorization on an external site, and can developers customize the appearance of this authorization process?"
Attarius:  For now our authorization flow checks that the provided address belongs to the user. We check that by asking users to sign a special message (challenge) by the user's private key. This is a complicated way but we simplify it to the developer and user. And we support the most popular wallets – matamast and wallet connect for EVM networks and two wallets for near. We are looking to add more options there.
That external site that you mention is our wallet page that performs that action.
On current version developers only can upload thay logo. But in a future version, we plan to provide more customizations that will include user domain too
Question 8 from LOVER PLACE
"Collaborations and partnerships are some of the most important cornerstones to help improve adoption. Can you tell us about current partners, plans for partnerships and what everybody stands to gain from these partnerships?"
Attarius: We currently have a number of partnerships and collaborations in place to help improve the adoption of our technology. And I would say we have several categories for partnerships, based on the synergies we achieve together.
Our product is mainly chain agnostic. And we partner with various blockchains to introduce our technology and validate the importance of what we build. This gives users the ability to access extended technologies, which is one of the key benefits of adoption.
We also have strategic and business partnerships with a number of businesses and protocols, like Chainlink Labs, Parsiq, Sinofy or Abu Dhabi Gaming. These partnerships help promote the use of our technology and provide a great opportunity to introduce our technology to new audiences.
And of course, we have game projects and studios, as well as gaming guilds that we have on-boarded.
We definitely see many advantages of expanding the partners' network and constantly exploring partnerships that could help us to accelerate our growth and expand our reach.
Question 9 from WANDA Carter
"Gaming sector is extremely competitive & many platforms had to work very hard to reach their current user numbers. How will AttariusN team compete with the existing gaming platforms & what extra features will #Attarius offer to attract the gamers from the other platforms?"
Attarius: We have worked hard to have features on our platform that make it easier for the web2 to web3 transition both for developers and for the end users. For example, our API is built in a way that it has an understandable interface. And it is created with a "Plug and Launch" functionality, where the users can choose part or full functionality of the platform.
From a technical standpoint, we are a non-custodial solution and are not able to store keys on our level. Therefore, keys are stored on the user level. We are able to send transactions to sign it to the key manager and then relay transactions to the blockchain.
Another interesting feature is that through our API, we can potentially achieve cross-game interoperability.
Question 10 from RACHEL REI
"Now that GameFi and Meta have emerged as new MetaFiorg in the crypto world, how does NFT put these concepts into practise and maximise the benefits for players? In what ways can participants truly engage in your in-game features while also contributing to future development?"
Attarius: Metaverse in particular gives users the freedom to own items and make a profit from this ownership. NFT is just one concept that gives truly freedom to the end user by opening the market for trading and sending items. Game open economy not only helps users to make a profit but also makes the ability to improve the metaverse by improving game items and making inflation inside the game.
Conclusion
Aurority:  "Thank you and Community for being here today. Don't forget to join and follow Attarius's Twitter. I am sure that the community will be looking forward to Attarius's event in the near future.
In addition, you can participate in many other great community activities organized monthly by Attarius. I believe it will be very interesting and exciting.
And we have another event for the community. Follow me to get a chance to receive the reward and explorer the Ecosystem
We had a great Q&A session today with lively community discussion, do you have any last words to say to our community?"
Attarius: I would like to thank the community. Thank you so much. Goodbye!
You can listen to the Recording of the AMA:
🎙️Set Reminder Here: https://t.co/aH98jnvqxn

— Aurority (@Aurority_com) January 14, 2023
Contact us:
Attarius                     Twitter |  Telegram  | Website | Discord
Aurority                    Twitter | Telegram  | Website  | Instagram | Facebook
Nearity                       Twitter | Telegram  | Website  | Instagram | Facebook