We held an AMA with Web3Mon on February 17, 2023. The main topic of this AMA session was this project. We received some fantastic questions from the public during this AMA. Web3Mon also gave detailed descriptions of their project to the general audience. Let's read this article to better understand what the AMA says.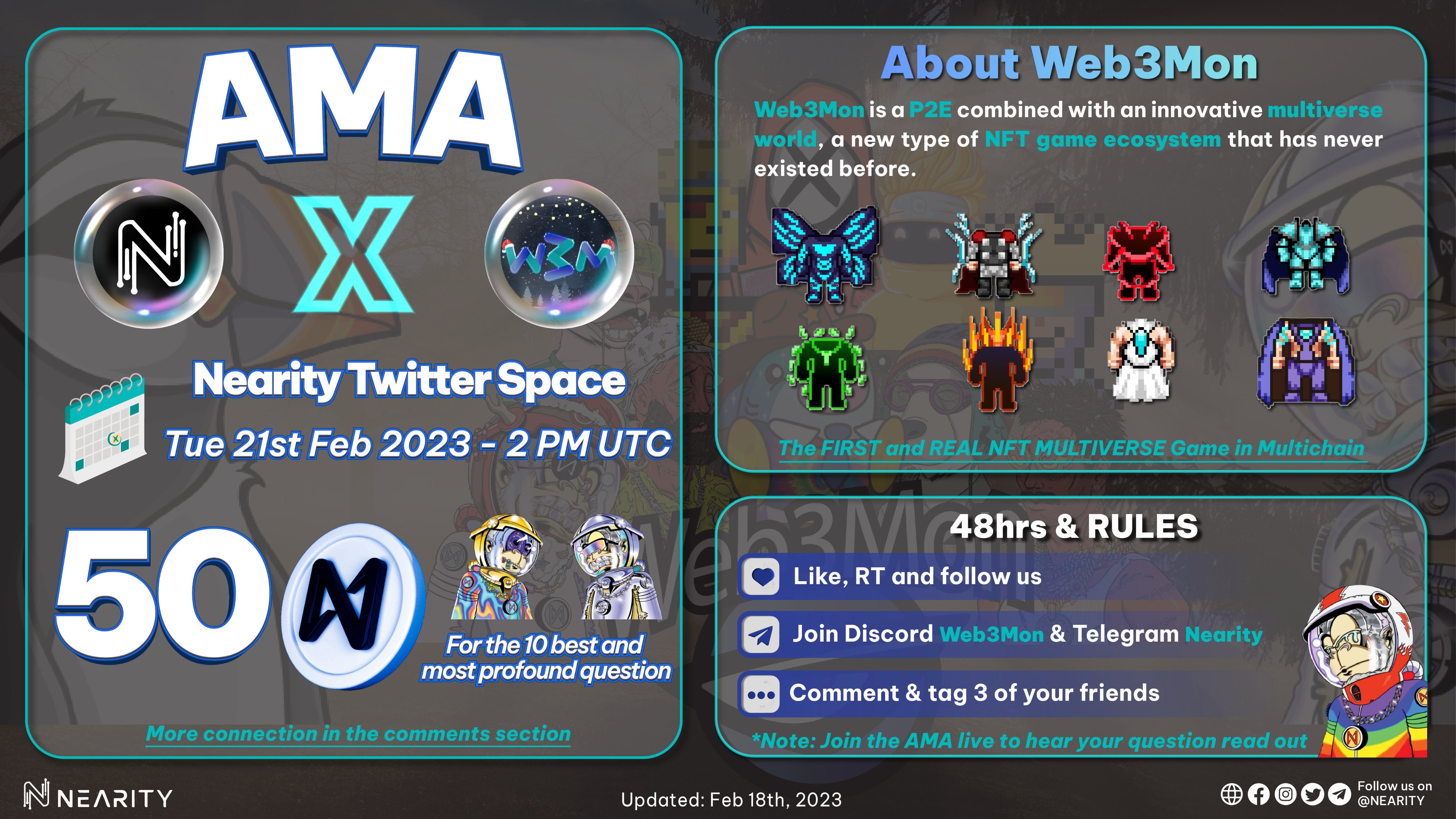 Introduction
Nearity: Hi guys, I'm Landon, the Community builder of Nearity. We update the latest information on Near about the ecosystem, analyze data, analyze projects, provide instructional content, and support users on how to use and integrate into the ecosystem. Welcome to a wonderful AMA with Web3Mon Could you tell the community a little bit about Web3Mon?
Web3Mon: Hey guys this is Jaewon from Web3Mon. I am one of the co-founders of Web3Mon. Currently, I am managing the front-end and overall business development. I am really glad to be here. Our Full name is Web3Mon – Degen War: Distorted Arena Web3Mon. We are the First NFT Multiverse Project on Multichain. Recently, the NFT market has exploded. Compared to this, NFT's utility is limited. This form is not sustainable. We are going to aggregate the scattered NFTs together and provide a utility. Users can compete with other collections by participating in Web3Mon with the NFT they already own. Basically, we are a PVP turn-based combat game. NEAR VS Solana, Polygon VS Terra. Isn't that interesting?
Answer the question from the community
Question 1 from This broker
"Your project name seems to be very interesting. Does it have any story behind it? Can you share us with the inspiron for approaching to this name? "
Web3Mon: We used to like Pokemon when we were young. We thought it would be nice if there was a game similar to Pokemon on Web3, so we named it Web3Mon. Also, our team thought the battle between collections on Web3Mon was similar to Pokemon. Regarding structure, our team has always questioned the utility of NFT and the sustainability of p2e. To solve this problem, it would be incredibly scalable if we provided users with the NFT they already had so they could use it in the game. We will aggregate scattered NFTs into our Web3Mon to create a new multiverse.
Question 2 from Daniel James
"What functions does your NFT have? Can I use it to play games? What if I want to bring to Marketplaces to buy, sell, or give away to others?"
Web3Mon: The first NFT of Web3Mon is clothes. It is used as a character's skin in the game. When users enter the game, the NFT they own becomes the face in the Web3Mon game, and the Web3Mon NFT becomes the torso part. There are 300 clothes and 5 backgrounds. A total of 1500 NFTs will be minted on each chain. The five NFT backgrounds reflect the characteristics of each chain. NEAR: Ice, Polygon: Water, Terra: Soil, Arbitrum: Forest, Solana: Fire (The battle background will also reflect the attributes of the five chains we support.) Web3Mon NFT owners get the following benefits from the game: Common advantage: NFT holders will have equal voting rights for Web3Mon's governance until the $WARRIOR token launch.
Specific Advantage: There are five types of NFT backgrounds and battle backgrounds each. These five types reflect the characteristics of the five chains supported by Web3Mon. Users gain an advantage by playing games where the attributes of the NFT background and the battle background match. Specifically, if the attributes of the NFT background and battle background correspond, players will get 2LP before the game starts. For example, If the user's NFT background represents ICE(NEAR), and he plays in an ICE battle background, the user gets 2LP before the game.
Question 3 from Chemmery
"You are encouraging the community to send wallets to your project, so what benefits will we get if we send wallets to you?"
Web3Mon: Those who have received Whitelist or OG roles in our discord must submit their wallets to Vulcan to participate in WL minting on Thursday. If you haven't submitted it yet, please submit your wallet to Vulcan, which is operated by NEARVerse Labs!
Question 4 from jum hide23
"In the upcoming NFT release, do you have any new add-ons for web3mon in NFT?
Web3Mon: Our First NFT, SKINS will be minted on NEAR this Friday. The game will be launched in March. Web3Mon can be played with USDC first few months. But when the game is stable, we have a plan to launch our own token $WARRIOR will be used in the game. Our team is going to AIRDROP $WAR tokens to the Web3Mon #NFT holders. The Number of #NFT holdings, Period of NFT holdings, Qualification of OG and WL and (On-Chain data), etc will be considered as standards of the airdrop. Also, we will expand to multi-chain in March. At this time, Web3Mon NEAR NFT holders are given priority opportunities to become OG and WL when #NFT is minted in other chains.
Question 5 from iconic
"I've bought quite a few games NFTs. Only a handful have been able to provide me with an ROI so far. What makes a "Web3Mon NFT" valuable compared to other NFTs – what can I expect? "
Web3Mon: We are confident that our game will be a new hub for NFTs. For holders, ROI may be a major reason for holding NFTs or tokens in a project. Our ecosystem receives backing and partnership from major Layer 1 and 2 chains such as NEAR Foundation and TerraForm Labs. We would appreciate it if you could trust our ecosystem and pay attention to the first NFT of Web3Mon.
Question 6 from May Uy
"As far as I know, your project is from Korea. I am Chinese and have a few friends who are Developers. They said that they would like to participate in the construction of the project with you. Do you allow such people to participate in the project build? "
Web3Mon: Of course, we are always welcome to do that. I personally like China. If you give me a DM, it is always open to building together.
Question 7 from Ruby Lux
"In terms of community, there is still a large audience in the gaming world who are not aware of the crypto and blockchain industry. What is #Web3mon plan to reach out to these people and make your voice heard by all gamers?"
Web3Mon: We're basically creating games targeting users who are already in the Web3 ecosystem. It's about providing new layers and utilities to the NFT they already have. However, we are also making a lot of efforts to onboard web2 users. Our ecosystem is designed with a gameplay loop and reward system. This has a high level of detail and intricacy with Web3Mon at its core. It's a multiverse game that allows players to participate in and trade with their existing NFT assets. This will enable them to venture into our carefully designed NFT fantasy world. Our Web3Mon project is sophisticated and executed by a powerful team. We can promise a very high level of gaming and worldview design and can be called the Avengers.
Question 8 from MrKing
"Does your project support dual within players? Also, do you hold tournaments at the end of every season within all @web3mon users/players? If yes, then will there be a prizes pool for the winners of the tournament?"
Web3Mon: Yes absolutely. We are currently planning to add that kind of team match. Also, the tournament will be held around April. We are planning to create a prize pool in collaboration with our various partners and conduct a Web3Mon World Cup. We will share the specific schedule through the community when it comes out.
Question 9 from dawta
"In your roadmap it says Q1 you will release NFT, can you tell us a little bit about the topic that you are aiming for in this release?"
Web3Mon: We look forward to building our solid community through Minting this week. Web3Mon NFT holders will be given priority opportunities in token launching and multi-chain expansion in the future.
Question 10
"What is the roadmap of Web3Mon?"
Web3Mon: We are planning to launch our first NFT Mining this week. We will make sure to prepare for multi-chain integration after minting NFT successfully. We support cross-chain with our own unique structure, which is different from other multi-chain or cross-chain structures. The structure is based on the virtual state channel, which won one of the biggest hackathons in Korea in November last year. A detailed structure is provided in our white paper. We will continue to build and do our best to make web3mon a hub for NFT.
Conclusion
Nearity: Thank you and the Community for being here today. Don't forget to join and follow Web3Mon telegram. I am sure that the community will be looking forward to Web3Mon's event in the near future. We have another event for the community. Follow me to get a chance to receive the reward and explorer the Ecosystem And Thank you to the Near Foundation have helping Nearity to support projects Best regards to all of you, thank you for your presence. Goodbye!
Web3Mon: I would like to thank the community. Thank you so much. Goodbye!
You can listen to the Recording of the AMA:
Contact us:
Web3Mon                Twitter |   Website   | Discord
Aurority                    Twitter | Telegram  | Website  | Instagram | Facebook