We held an AMA session with AstroDAO on October 27th, 2022. How to join in Lisbon DAO Hackathon is the subject of this AMA. AstroDAO provided a number of community queries and answers throughout the AMA. The purpose of this AMA is to introduce users to AstroDAO. Here is a summary of the AMA session. Read the articles together.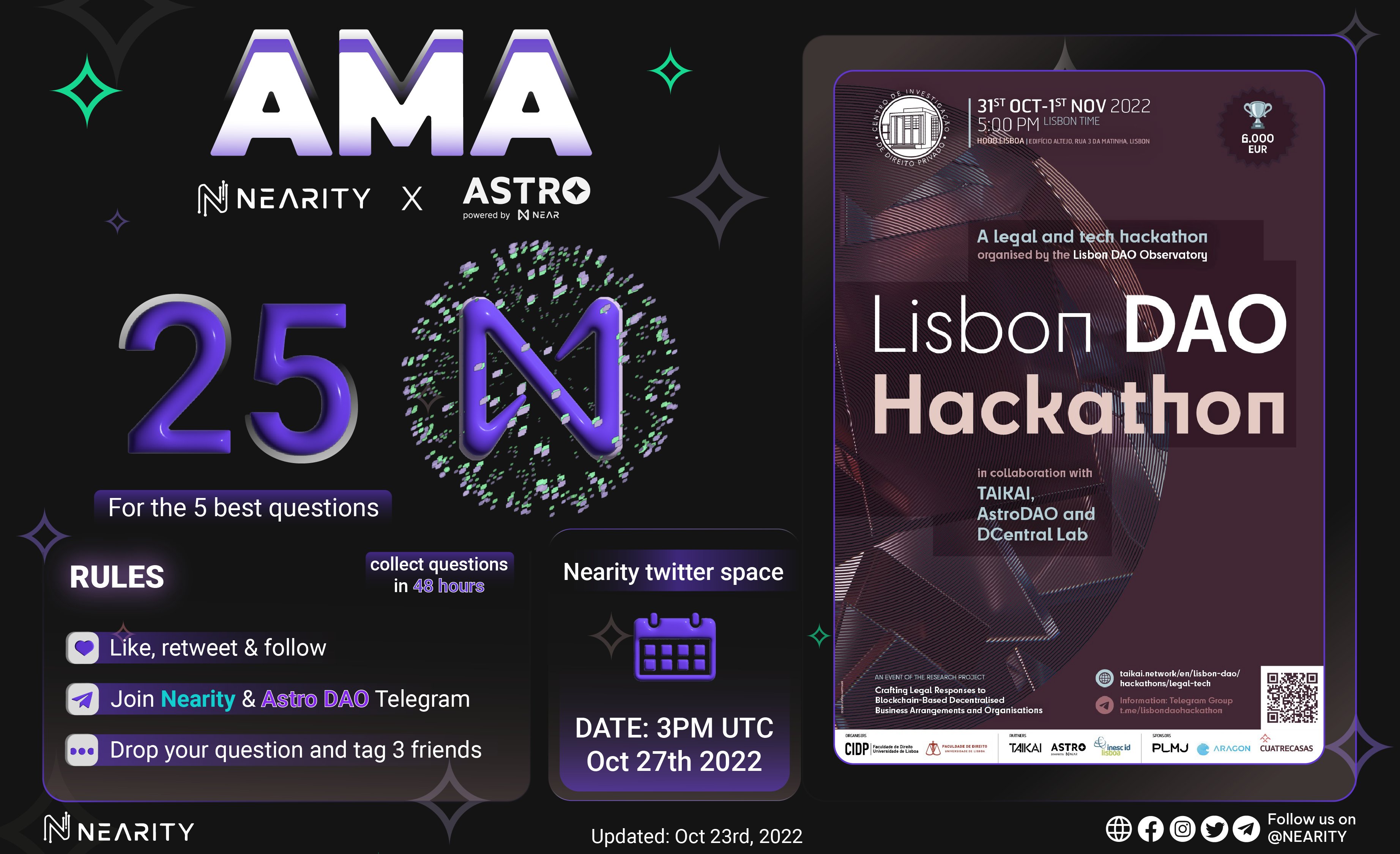 Welcome and Introduction
Nearity: Hi guys, I'm Landon, a Community Builder of Nearity. We update the latest information on Near about the ecosystem, analyze data, analyze projects, provide instructional content, and support users on how to use and integrate into the ecosystem. Welcome to a wonderful AMA with AstroDAO.
Today, Jordan Gray will represent AstroDAO to introduce and answer your questions. Now, can you introduce yourself and AstroDAO, Gray?
Question and Answer section
Question 1
What is the structure of this project, is it decentralized or an open sourced protocol where everybody can contribute? If so, how does the governance plan on being handled?
AstroDAO: Astro is a UI and API layer for NEAR DAOs. Under the hood is the Sputnik smart contracts. All of this was originally developed at NEAR Foundation and is now living at Pagoda, which is the team who developed the NEAR Protocol.
Astro and Sputnik are open sources and we accept developer and content contributions. For example, you can make translation contributions.
Event non-technical people can contribute to our open-source roadmap by sharing their ideas in feedback section on the Website. You can also upvote the ideas you care the most about.
The changelog can be referenced to see our latest releases on the Website.
If you want more frequent updates on what's happening in the NEAR DAO Ecosystem you can tune in to the NEAR DAO Demo Days which happen every Friday. We also have a youtube channel with all of those recorded
Nearity: Wow so there are a lot of ways for people to contribute to the community and gain more knowledge on updates and new features, I will be sure to check out your guys' youtube channel I had no idea you had one that is awesome to hear. I really love that you guys have a way for developers to link up and share their ideas too with the website.
Question 2
What does your project contribute to the development and benefit of the NEAR community?
AstroDAO: Because NEAR is simple, secure, and scalable it's possible for DAOs on Astro to perform all of their collaboration and financial management on-chain. It's also possible for folks who aren't digital natives to easily onboard to NEAR and participate in DAOs.
We also have a grassroots DAO2EARN program if you would like to become a mentor and provide communities microgrants to harness the power of Astro. Out of the 200 weekly active DAOs, about half of them have been through the DAO2EARN program.
Nearity: What you just said about near is super true, people really love near it is so true what you said about how it allows people who aren't digital natives to easily onboard it is one of my favorite features of Near. That is so cool, your mentor program sounds super interesting I really love how Astrodao touches the community with programs like DAO2EARN, I'm thankful you guys really took the time to understand the benefits something like the DAO2earn brings its inspirational and I hope more developers will do something similar in the future when it comes to community.
Question 3
Who is Backer of AstroDAO? What projects has AstroDAO collaborated with?
AstroDAO: There are over 200 weekly active DAOs on Astro. You can follow our Twitter list to catch some of the highlights.
Aurora and Ref Finance: the highest TVL.
MarmaJ and NEARchan: the most NFTs.
NEARweek and HAK Token: the most users.
There are several gaming DAOs on Astro including Human Guild, AMBER, and Shroom Kingdom.
Nearity: Over 200 weekly that's impressive, I will be sure to follow on Twitter, You have collaborated with quite a few impressive people already and I can't wait to check out your gaming DAO like human guild Amber, and shroom kingdom which is an awesome name by the way
Question 4
Can you share the development plan of the project in the NEAR ecosystem in the near future?
AstroDAO: Astro is revolutionizing remote work with decentralization. The gig economy TAM is $1.5 trillion and touches every industry.
Astro is ushering in a work revolution on a scale that hasn't been seen since the information age. Crypto makes it possible to capture granular value at a global scale, rewarding existing work in ways that were never before possible.
NEAR flexible account model is crucial to onboarding people who are not digital natives but can still benefit greatly from opportunities in web3.
Focusing specifically on the right side of work is a differentiator.
Nearity: 1.5 trillion, holy moly that really does touch every industry. That is amazing and it's exciting to see all the possible rewards we really are living in the future. Near does have a very flexible account model it really comes in handy for people finding opportunities in web3.
Question and Answer session with Community
Nearity: Without keeping the audience waiting for long, we will start answering the community's questions about Lisbon DAO Hackathon – A legal and tech hackathon organized by Lisbon DAO Observatory in collaboration with TAIKAI, AstroDAO, and Dcentral Lab
Question 1 from  Lee Di
What stage is the current DAO market? How do you see its future evolution? How does AstroDAO platform for DAO creation different in the market?
AstroDAO: DAOs are extremely nascent technology. If anyone claims they know exactly what a DAO is they are lying because the full potential of DAOs has yet to be realized.
The fully decentralized shape of DAOs is only one configuration. Decentralization to thousands of people can be gradual or for some organizations, may not even be the goal.
Modular governance is something I'm excited about in the Sputnik contracts. We're working on opening it up so that people can define their own governance in smart contracts written in javascript. This will also allow people to implement custom approval and workflows in their DAOs.
Question 2 from Sany_Sany0
What are the legal challenges and the current legal state of DAOs? Are there similar arrangements in order to help shape future legislative action? What are the main topics that the project can engage in?
AstroDAO: When you launch a DAO on Astro you are the owner of it and ultimately responsible for it. Each DAO launched on Astro needs to establish its own legal entity, if it wants to have one. Nothing I'm sharing is legal advice, we recommend speaking with legalnodes.com to identify solutions that are relevant to your unique situation.
DAOs find themselves in need of legal entities when they want to interact with IRL ownership, for example, land.
Some DAOs are already legal entities like LLC & need to operate their DAO in a compliant way. Participation agreement. Gradual decentralization.
Question 3 from  sunsighs20
What role does AstroDAO play at the DAO hackathon? Can you share some of the AstroDAO activities there?
AstroDAO: Most of the speakers are on the low side so Astro is leaning into the technical side. We will show how you can create a DAO in a few clicks and the different aspects of governance that you can configure.
Anyone can set up a DAO on Astro with just a few clicks. The total cost of launching a DAO on Astro is 6N. You can experiment with DAO configuration on testnet for free before you commit to a mainnet DAO.
Will also serve on the jury alongside
Cathy Mulligan (Dcentral Lab)
Jordan Gray (AstroDAO)
José Nuno Sousa Pinto (Aragon DAO)
Madalena Perestrelo de Oliveira (Lisbon DAO Observatory)
Marina Markezic (EU Crypto Initiative)
Pedro Febrero (RealFevr)
Xavier Lavayssissière (University of Paris I: Panthéon-Sorbonne)
Question 4 from  keamsidbaldorjf
How to join the DAO Hackathon? What are the conditions to be able to register to participate? And when does it close registration?
AstroDAO: Need either a legal or tech background. Each team must have 3-10 people so you'll need to find 2 other teammates. Each team also needs at least 1 technology person and 1 legal person.
If you're having trouble finding a team there is a matchmaking feature on the TAIKAI platform being used for registration and other hackathon legistics.
As for the legal background, everyone is welcome, from students to qualified lawyers and academics!
Register before Oct 31 but can form teams at the venue or in the telegram room anytime before the presentations on Nov 1st.
Oct 31 – The presentations/conference.
Nov 1st – the pitching and award ceremony will be held at the venue.
Question 4 from sodhiyoheysois
What are the awards of this hackathon? After winning, will the winning teams receive any support?
AstroDAO: 6,000EUR DAOcubator which also connects teams to investors and NF Grants
The supportive community of 200+ active DAOs
Conclusion
Nearity: Thank you and Community for being here today. Don't forget to join and follow AstroDAO's telegram. I am sure that the community will be looking forward to AstroDAO's event in the near future.
We have another event for the community. Follow me to get a chance to receive the reward and explorer the Ecosystem. And Thank you to the Near Foundation have helping Nearity to support projects. Best regards to all of you, and thank you for your presence. Goodbye!
You can listen to the Recording of the AMA
Contacts us:
AstroDAO  Twitter |  Telegram  | Website
Nearity   Twitter | Telegram  | Website  | Instagram | Facebook