On October 28, 2022, we held an AMA with MyNearWallet. This AMA session revolved around the topic of the MyNearWallet project. We collected some good questions from the community during the AMA MyNearWallet and also gave full answers about their project to the community. Let's read this article to understand the content of the AMA.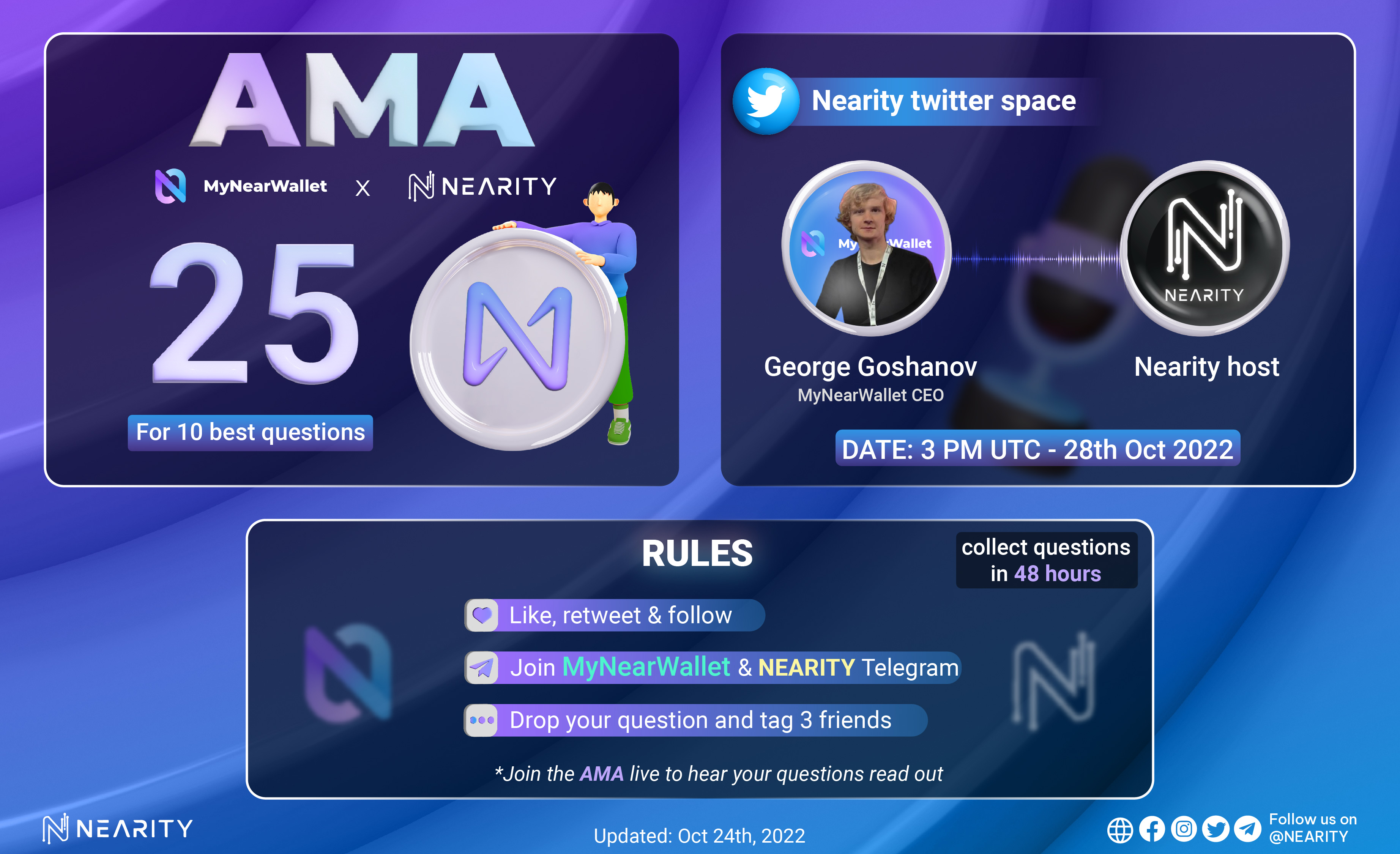 Welcome and Introduction
Nearity: Hi guys, I'm Landon, a Community builder of Nearity. We update the latest information on Near about the ecosystem, analyze data, analyze projects, provide instructional content, and support users on how to use and integrate into the ecosystem. Welcome to a wonderful AMA with MyNearWallet.
Welcome, George – Founder and CEO of MyNearWallet. Now, can you introduce yourself and MyNearWallet?
MyNearWallet: So there was a NEAR wallet — an official open-source wallet by NEAR Foundation. With the Development of NEAR blockchain, it became obvious that the official wallet is not the right decision because users have a variety of needs. And only different wallets can cover all of them. And if there is an official wallet, there is no fair competition for others. So our team used a codebase of NEAR wallet to create MyNearWallet. The idea was to take an existing product and concentrate on the most important things. Such as secureness, and mobile apps. So these wallets can look alike at first glance. But the biggest difference is that MyNearWallet has a huge roadmap and NearWallet does not.  New features such as fraud detection and DEX swaps will be available only on MyNearWallet.
Question and Answer session with Community
Question 1 from ANPAL OMEGA
Why did you build MyNearWallet, what was your motivation to start this project?
MyNearWallet: Open-source and easy to start with, no need to download anything. In other words, you just open a web page and you are good to go.
The majority of dApps in the ecosystem already have support for MNW so you can log in to them with MNW.
Non-custodial: you are in control of your funds
Transparent: open-source and always open to feedback
All NEAR assets are available to store, receive and send. Expanded functionality: swap, stake NEAR and earn NEAR assets. So if you want to be a part of this beautiful journey jump on a boat and let's build together.
Question 2 from angelafzhnmi
Can you tell us about the unique features of MyNearWallet?
MyNearWallet: We actively chat with the community, we are transparent and carefully collecting and listening for feedback and we are the only wallet in NEAR which has a Live Support team. Highly secure due to the innovative key-splitting solution. Not just a wallet but a gateway to NEAR world because of dApps, dexes, NFT marketplaces. But we like that there are many NEAR wallets. Competition makes our work more challenging and exciting!
Question 3 from Ahmad Pratama
What difference are MyNearWallet and other wallet on Near ecosystem?
MyNearWallet: Create a named account, interact with NEAR apps, and become a part of our community. Fill in the form with your feedback and feature requests (find them on our Twitter). Also, definitely take part in our beta testing – we're thinking of giving some rewards to those who do. Also, don't forget to follow our social media – we have lots of cool giveaways and interesting articles written for beginners over there!
Question 4 from kril Ly
How to use MyNearWallet efficiently?
MyNearWallet: You can buy NFTs via MNW. We are integrated into different NFT marketplaces: Apollo42, Paras, Picipo, and Tradeport. Also, we have in mind to create our own NFT collection. Don't miss it!
Question 5 from SapolChulanol
Considering the recent surge on NFT usage and its market, is MyNearWallet going to add a specific service for NFTs? If yes can you please pitch a little details about it.
MyNearWallet: Security is a top priority for us and I would love to talk about this here. Open-source, MPC, password-lock, audit, ledger. Future: WalletConnect + mobile apps. MyNearWallet is undergoing an initial audit by an independent team at the moment, this will help us to understand the initial threats that we should focus on if any. Mobile applications will also pass audits to make sure they provide the best security available on their platform. Right now the team is working on adding MPC signatures into the wallet, to remove Full-access-key from web applications completely. This new approach to handling private keys will also allow us to return email recoveries with an improved security approach. And also, the MyNearWallet team removed SMS and Email recoveries that were not meeting our security standards.
Question 6 from Chocho Adri
Now the biggest problem in crypto is security, in recent times there are many projects that have been hacked that have taken away the user's resources. So how do you ensure the security of your project?
MyNearWallet: Mobile apps, more integrations, new design, emerging NEAR ecosystem.
Question 7 from Miziad Aheis
What attracts users and investors to "MyNearWallet" in the long term?
MyNearWallet: We collaborate with the biggest NEAR players: dApps, Dexes, and NFT marketplaces. We will continue doing it so to make it easy for users to log in via MNW. Expanding to our chains is not in our closest plans. But it is possible in the future!
Question 8 from Roberth
What is your strategy for partnership on the NEAR ecosystem? Do you expand to other chains?
MyNearWallet: Mobile apps are in the active beta-test phase, and will soon be available on both platforms: Android and iOS, directly from app stores. And the android application is going live slightly earlier than iOS. Both applications are on their way to app stores. iOS is already on TestFlight.
Question 9 from Free learders Art
Will @MyNearWallet be available on Android Google Play apps soon? Will @MyNearWallet be able to support lending facilities with NFT collateral?
MyNearWallet: We are rebuilding 2FA. Migrating from the current 2FA system to a new one with convenient confirmation methods like Google Authenticator and mobile app approval. Working on a solution to add a wallet to your browser and use it securely with the usual 2FA methods.
Conclusion
Nearity: Thank you and Community for being here today. Don't forget to join and follow MyNearWallet TG and Twitter, I am sure that the community will be looking forward to MyNearWallet's event in the near future.
We have another event for the community. Follow me to get a chance to receive the reward and explorer the Ecosystem. And Thank you to the Near Foundation have helping Nearity to support projects. Best regards to all of you, and thank you for your presence. Goodbye!
You can listen to the Recording of the AMA:
— Nearity 🅝 | Create Without Limits (@Nearity_org) October 28, 2022
Contacts us:
MyNearWallet  Twitter |  Telegram  | Website | Discord
Nearity   Twitter | Telegram  | Website  | Instagram | Facebook