On February 27, 2023, we conducted an AMA with Ownity. This project was the main topic of discussion throughout this AMA. Throughout the AMA, the community provided us with some insightful questions. Also, Ownity provided the public with thorough responses to their endeavor. To comprehend the AMA's content, let's read this article.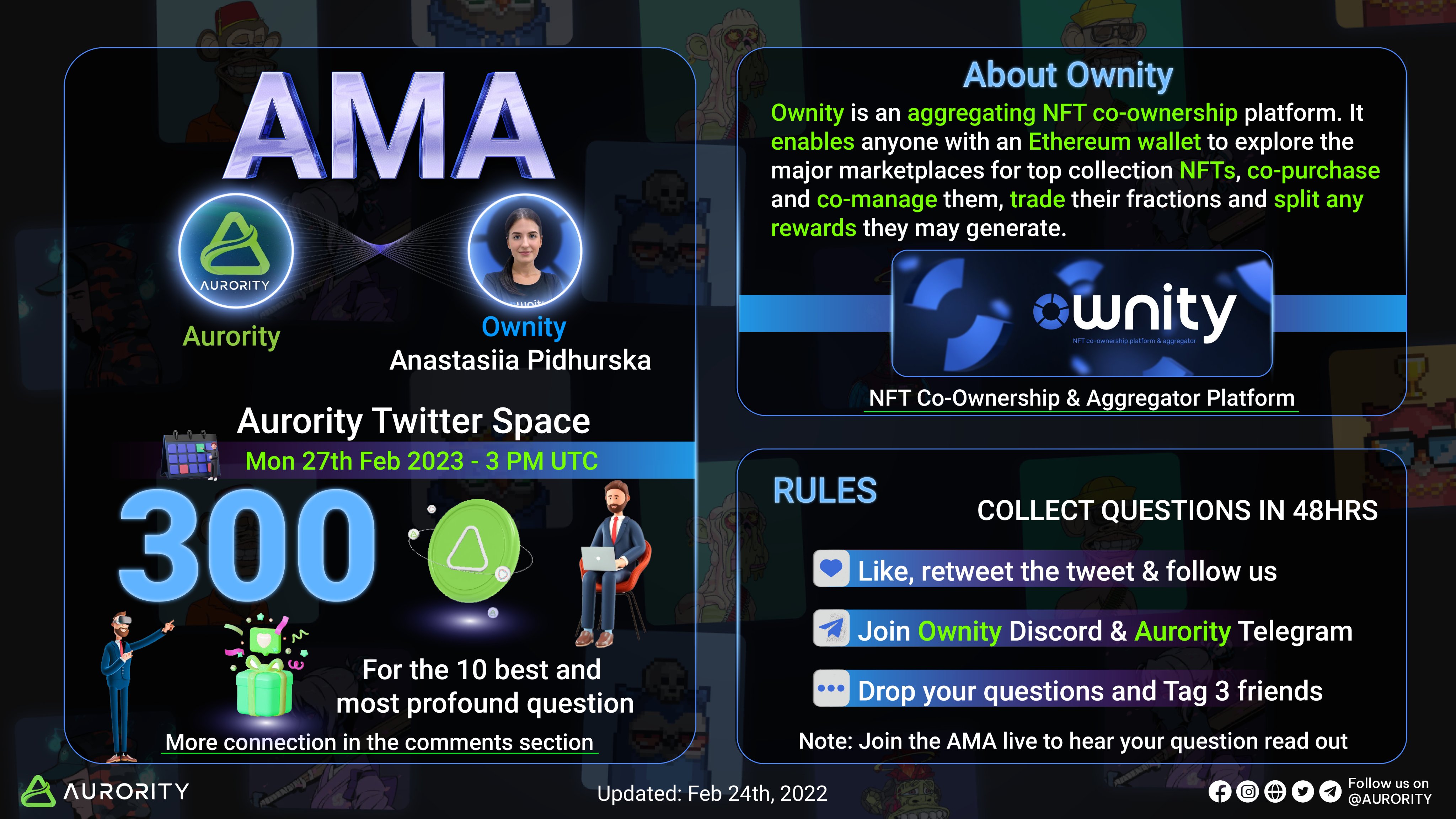 Introduction
Nearity: Hi guys, i'm Landon, Community builder of Aurority. We update the latest information on Near about the ecosystem, analyze data, analyze projects, provide instructional content, support users on how to use and integrate into the ecosystem. Welcome to a wonderful AMA with Ownity
Ownity: Hello, I'm Anastasiia, BD at Ownity. We revolutionize the NFT industry by building an Ethereum-based platform for co-ownership and aggregation, making the NFT ecosystem accessible to all investors. Our mission is to break down entry barriers and increase liquidity on the market by enabling secure fractionalization deals for high-value assets, including highly sought-after collections (i.e Bored Apes) on leading marketplaces like OpenSea, LooksRare, and more.
Answer the question from the community
Question 1 from 3n7hu5
"Can you list some of the features with which you are most confident about your platform? How can you advertise your project worldwide and make it popular?"
Ownity:  With our cutting-edge NFT DAO-management tools and an NFT fraction market, we empower investors to access previously unattainable opportunities and unleash the full potential of their investments.
We clearly know our audience and try to work precisely with each of its segments. Creating a successful project requires a strong marketing strategy that combines various tactics to increase visibility, build trust and attract potential buyers. Our team has a great background and I am sure we are following the right strategy.
I can highlight a few key points thanks to which the whole world will know about Ownity.
– Influencer marketing: Partnering with influencers who have a large following in the NFT space.
– Community building: Building a strong community around our project can help generate buzz and drive sales.
Question 2 from Lee Win Kin
"How does Ownity's dApp work? Does it have any special features to attract users?"
Ownity: Our platform is a game-changer for NFT investors, simplifying the search for the perfect purchase by gathering listings from multiple marketplaces in one place. This unparalleled access provides our users with a wider selection of what to buy and support ongoing deals. Users have the flexibility to purchase fractions of an NFT, starting from as little as 1% of its price, or buy the entire NFT with access to its fractions.
But that's not all. We go one step further by offering an internal fraction market, allowing share owners to sell a portion or the entire fraction with ease.
DAO management tool – allows you to sell your NFT directly on supported marketplaces through a voting process, based on the majority consensus. The profits from the sale will be shared among all shareholders. With our platform, managing your NFT investments has never been easier.
Question 3 from Jumm Blacka
"Who does NFTS after fractionalized, who owns the original NFTS? Is Original NFTS losing value when Fractionalized?"
Ownity:  All NFTs are held securely on our Smart Contract, which is the safest method for managing co-ownership. We acknowledge that some NFTs offer certain utilities and we now enable the distribution of rewards from airdrops and rewarded tokens among all shareholders. Additionally, we have plans to integrate a landing service that will provide opportunities to fully utilize the value of NFTs.
Question 4 from ni Gum
"Is it safe to co-purchase and co-manage the NFT that your project is working on, and how will your project and users divide the interests?"
Ownity: Yes is totally safe to manage and hope NFT is on our Smart contract. We allow you to buy listings directly for, marketplaces and manage them in the DAO way
Question 5 from Matthew
"What is your transaction fee? How is it calculated?"
Ownity: Ownity charges a small fee depending on the event:
NFT Fraction Sale – 1% Of Listing Price NFT Co-Purchase
Purchase – 2.5% Of Listing Price
NFT Sale – 2.5% Of Listing Price
But now during our Beta test – commission is 0%
Question 6 from kim chang
"Your Oracle has a mechanism to interact with External Marketplace APIs and smart contracts, can you explain to me more about this mechanism?"
Ownity: Yes, we list NFT for Sale on Prominent marketplaces from our Oracle and now working on Smart contract interaction only. The mechanic works like this. When a listing is bought users can manage it in the DAO way based on signs technology, when the majority of people will vote for some decision about the condition of the NFT Sale, we will place this listing on chosen Marketplaces.
Question 7 from Roga_Hanny
"Once the product is developed, one of the main challenges seems to be adoption. What are some of the plans to stimulate adoption and build out the ecosystem around "#Ownity?"
Ownity: We work step-by-step, and therefore, upon completion of the development of a certain stage from the roadmap, we turn on marketing and open the updated functionality to the public. At the moment, we have already launched a public beta version and will announce a global achievement program very soon. Answering the question about encouraging the adoption of Ownity, of course, as I said earlier, we lay certain expectations in Influencers & KOLs.
Additionally, we will be implementing a referral program to incentivize our existing users to invite their friends to join the platform. We believe that word-of-mouth marketing is one of the most effective ways to reach new users and build a strong community.
Question 8 from dadibinuk
"What are the triggers that make you want to create an Ownity platform, are there serious problems with using NFT that you're trying to overcome? "
Ownity: The NFT ecosystem is in its nascency and has a challenging barrier to entry that makes it difficult for smaller investors to access its assets which results in a lack of liquidity.
We want to ruin this barrier and provide access to NFT Ecosystem to all users.
Also, we admit that fractionalization today is a one-way road: users get fractions and that's it, they can't go the other way, as it's almost impossible for co-owners to reach a consensus afterward.
Imagine if you bought a fractional share on Robinhood, but couldn't sell it. That's the reason why the market has seen little development until now.
We provide a full suite for fractionalized NFT management from entry to exit that will generate unlimited investment opportunities for the market.
Question 9 from NFTHolic
"How does Ownity ensure fair distribution of rewards and benefits among co-owners of an NFT? Are there any restrictions on the types of NFTs that can be fractionalized and co-owned on Ownity?"
Ownity: Ownity uses a smart contract to ensure fair distribution of rewards and benefits among co-owners of an NFT. The smart contract automatically distributes revenue generated by the NFT.
In terms of restrictions on the types of NFTs that can be fractionalized and co-owned on Ownity, the platform supports various types of NFTs, including digital art, music, and collectibles and we have not faced any which are not allowed. Ownity already aggregates available listings on Opensea, LooksRare, X2Y2 and in Q2 2023 plans to integrate Blur and Element Market, covering almost all available NFTs.
Overall, Ownity aims to provide a platform that enables fair and transparent co-ownership of NFTs, while also complying with relevant laws and regulations.
Question 10 from Baberr Alan
"Fractionalized NFTS seems too new to me, for the first time I heard about it. I will follow Ownity and I want to know what you plan to do in the future because I haven't seen your Roadmap"
Ownity: Thank you for your interest, and I am glad to share with you our plans and current stage.
We have just launched our Beta version, and plan to scale our solution depending on users' needs and requests. We have our general plans as – add a Referral program, Notification service, Fiat Gateway, and landing service. But we are always ready to follow market trends and user request, you can leave your proposals on our social media and on our Help Center page.
Conclusion
Aurority: Thank you and the Community for being here today. Don't forget to join and follow Ownity Twitter. I am sure that the community will be looking forward to Ownity 's event in the near future. We have another event for the community. Follow me to get a chance to receive the reward and explorer the Ecosystem Thank you to the Aurora DAO have helping Aurority to support projects Best regards to all of you, and thank you for your presence. Goodbye!
Ownity: Thanks for having me! We will be glad to see you on our website and social media which you can find below the AMA post. Thanks for all your questions and see you, bye!
Aurority: Alright guys, thank you so much for your coming. Bye, everybody. Take care. See you later.
You can listen to the Recording of the AMA:
Contact us:
Aurority                    Twitter | Telegram  | Website  | Instagram | Facebook