On October 28, 2022, we held an AMA with XDao. This AMA session revolved around the topic of the XDao project. We collected some good questions from the community during the AMA XDao also gave full answers about their project to the community. Let's read this article to understand the content of the AMA.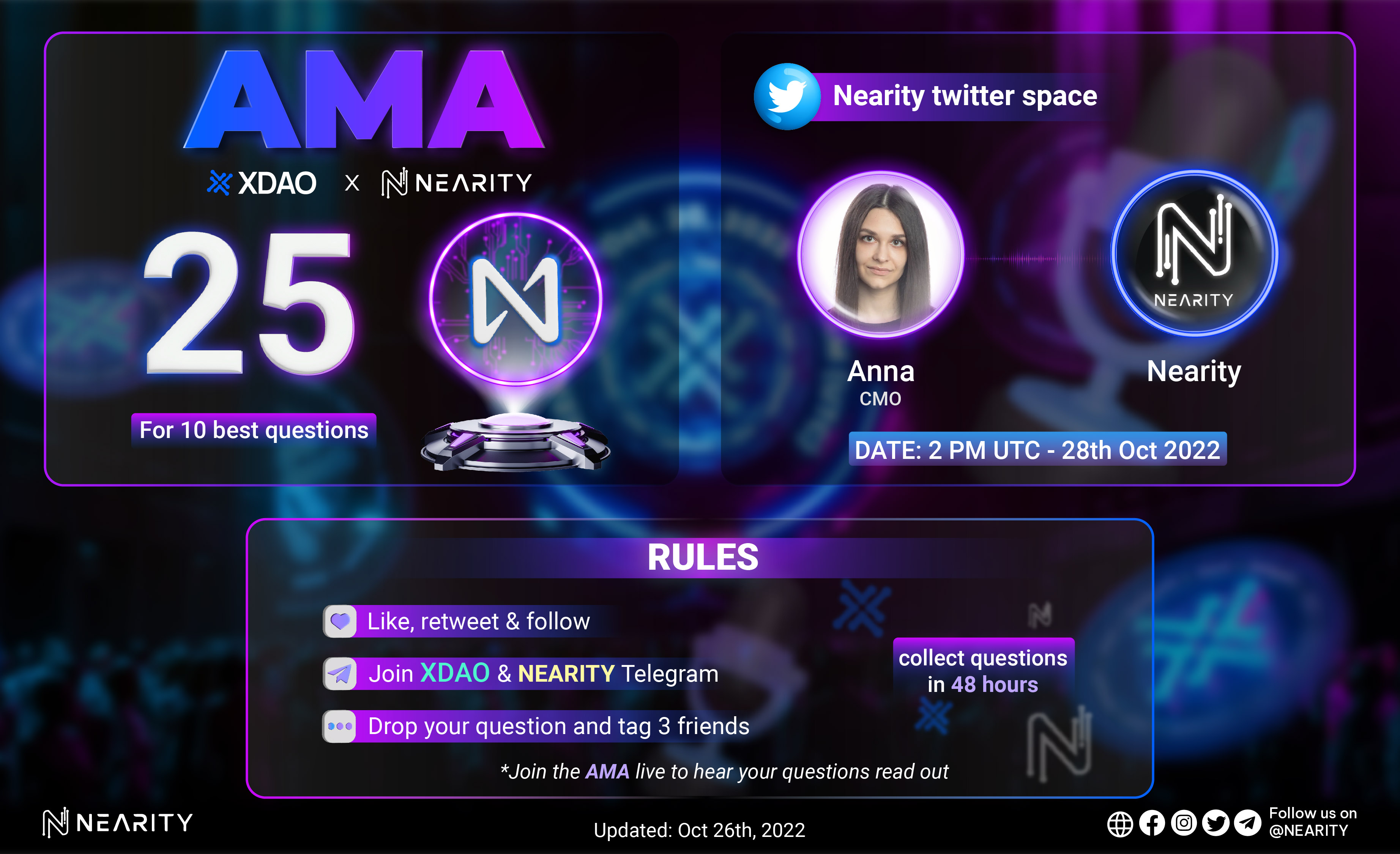 Introduction
Hi guys, I'm Landon, a Community Builder of Nearity. We update the latest information on Near about the ecosystem, analyze data, analyze projects, provide instructional content, and support users on how to use and integrate into the ecosystem. Welcome to a wonderful AMA with XDao. Today we have a great AMA with Anna CMO and Polina of XDao.
Landon: Can you tell us about yourself and introduce the XDao project?
XDao: Hello guys! Thanks for inviting us today! I'm Anna, CMO of XDAO and here we also have Polina today, she is our Lead of Design. XDAO is a smart DAO tooling that allows creating a DAO in 2 clicks without any coding skills. XDAO can be used for treasury management, as a multi-sig wallet, and as a platform for investment. DAOs on XDAO can be any-sized companies.
Landon: What is the goal of your project?
XDao: Before XDAO, there were no effective and convenient tools for companies and projects to invest in decentralized protocols as a joint entity or syndicate. In XDAO, a group of people can easily create a Decentralized Autonomous Organization, deposit crypto assets, manage them by voting, sell DAO shares and directly interact with Defi protocols. Besides investment DAOs, there are far more purposes for creating a DAO. For example, a DAO for charity, crowdfunding, or even GameFi Guilds. You can notice some similarities between companies in real life and Web3 communities. The checking account is a DAO address, and employees of the company are DAO members.
The infrastructure develops thanks to companies, thanks to the presence of big players in the crypto. It is companies – big players that accumulate the most money in Web3 at the moment. Such big market players need to coordinate their actions with each other, so they really need DAO Tooling to make decisions.
At the same time, we see independent and autonomous communities growing in the market. These are enthusiasts who gather in groups to discuss and find new strategies. People are collective creatures, and it is Web3 collectives that are the new vector in the development of the Web3 industry. That is, on the one hand, we see companies, foundations that want to fully operate in Web3, and on the other hand, crypto communities that want to do exactly the same thing. It's an evolution. And this development definitely attracts new users.
Answer the question from the communities
Question 1 from AvengerLoKi:
"What was the inspiration behind the name XDAO & how did you come up with it? "
XDao: The name XDAO was chosen because it sounds succinct and catchy. And our DAO managing interface is also very clean and well-designed.
"What is your biggest obstacle? How does XDAO overcome every obstacle in its project development? "
XDao: This is not an easy question haha. Maybe the most challenging for us was to launch our Ambassador program because we are a small team yet. And this flood of new participants shocked us a little bit! But fortunately, we found strong community leaders who have been supporting us all the time
Question 3 from Scarlet Wanda:
"Marketing is at the heart of every project, so it's important to let people know its potential. What is XDAO strategy to attract new users and investors to your platform and retain them for the long term?"
XDao: Good question. We see our main goal as educating people on how to use the XDAO platform and what XDAO can bring to its users. It's important to understand that XDAO is not a place to directly generate profit. But via XDAO people can create a syndicate. Invest and profit together. Enter more luxurious deals…etc. As the old adage says, "If you give a man a fish, you feed him for a day. But if you give him a fishing rod, you feed him for a lifetime." So we usually develop the contests and educational tasks so users understand the idea and can generate examples of how to use XDAO. Besides that, we also have a lot of ambassadors who support us along the way.
We also work with KOLs who also use the XDAO platform for their communities and partner with blockchains and are always really happy to provide some additional perks to the community. We are mainly community-oriented, and we work to make our community happy while they stay with us.
Question 4 from Batorshin:
"Could you give me 3 best features to convince me and other investors to invest in the #XDAO project in the long-term?"
XDao: XDAO allows people to work together, and gather efforts and financial sources to enter the Web3 market properly. Being a retail investor causes many risks: uncertainty, lack of risk diversification, inability to make a proper project analysis before investing, and a normally small budget, thus making it impossible to enter larger deals. DAOs diminish these risks. DAOs have bigger financial resources to participate in seed rounds.
The DAO treasury is protected by a decision-making mechanism that won't allow unnecessary spending. At the same time, DAO is all about the people involved. Having a great, enthusiastic, and competent team will allow you to get the best outcome from your DAO.
XDAO aims to bring DAOs to the masses and show how easy and, at the same time, effective joint investments can be. After all, DAOs are social clubs. Web3 space needs more such clubs because the space is human-centric as opposed to the mainstream financial market.
Question 5 from Mark Buffalo :
"What's the first thing you would like people to think of when XDAO is mentioned to them?"
XDao: We want to be the tool number one in the crypto space. Our dream is that when people think of DAO, they think of XDAO. And they would have a clear association: "Create a DAO? Of course on XDAO!"
Question 6 from Matteo Berrettini:
"What are the milestones of #XDAO and what key achievements the project is currently working on?"
XDao: I was waiting for this question! In terms of the roadmap, we already made an XDAO City Quest, a learning game that will help people to understand the DAO topic and the XDAO platform more easily in the form of a comic book. And on 20 October, we launched our token. At the beginning of 2023, we will launch our own XDAO exchange and also the possibility of a KYC implementation system. Exchange is very important for DAOs because they will need to release their tokens somewhere
Landon:
Question 7 from Julia Belejec:
"If the community is consider the backbone, security is also an extremely important factor. So is your project currently audit or not? How to convince that xdaoapp security system is safe enough for investors as well as the community against hacker attacks?"
XDao: XDAO smart contracts are secured by 2 audits: Pessimistic and Hacken. Both audits can be found in the XDAO GitHub repository (https://github.com/xdao-app/xdao-contracts/tree/master/audits) and familiarize yourself with them. In short, XDAO smart contracts are proven to be well-secured. No critical, high-severity issues were found.
People create DAO vaults because it is consider a safer method of storing funds. DAOs can be seriously protected from either intentionally bad transactions or unintentional spending by embedded decision-making mechanisms. Even if one of the member's wallets is compromised, funds are still safe because the bad actor or hacker won't be able to steal funds protected by votes from other members. Simply put, other DAO members will never allow funds to be stolen. This is the beauty of DAOs.
Question 8 from EvoxSkyline.near:
"What does the future hold for #XDAO? Do you have a roadmap you can share with us, or do you have any updates you'd like to give now?"
XDao: We have a roadmap for the $XDAO token, and we are also developing our roadmap for NFTs. So all NFT holders will benefit. For details, I'd recommend visiting our website and studying our roadmap.
Question 9 from Samchiz.near:
"It's so interesting knowing that XDao is currently live on 30 chains, what are the most pressing challenges you're facing among the chains and which chain do you prefer the most?"
XDao: Our first version was not so flexible, and it was hard for us to enter new blockchains. Now we have our second version of the protocol out and running, and here we have preoccupied ourselves with making it quickly deployable on EVM which is why we had supported by Aurora blockchain, we also have plans to add non-EVM blockchains such as NEAR, Solana, etc. Our idea is to make XDAO available to people who use different blockchains at the same time. We love Aurora so much, it's almost free blockchain btw!
Question 10 from Anwar Hossen:
"In such a competitive environment, how do you plan to scale and develop your prọect to a greater height in order to reach for the moon? And how can you differentiate yourself from your competitors in terms of technology and customer support?"
XDao: We plan to develop different projects under the XDAO brand, we don't stop with XDAO only. Meanwhile, there are so many things we want to implement in our platform to make it more intuitive and fresh.
And some words about our competitors besides what I've already mentioned. If you are familiar with how the Gnosis Safe works, it is a multi-signature wallet, then XDAO uses the mechanism of governance token counting instead of the concept of one wallet – one signature. On the other hand, there is Aragon. Aragon is a very flexible tool for creating DAOs, but it also requires programming skills from the user.
So, on the one hand, we have a very simple solution in the form of Gnosis Multisig, which works simply but is not customizable, on the other hand, we have Aragon, which is too complex to manage and use. XDAO is exactly in the middle: you still don't need any programming skills, but you can make a DAO specifically for your tasks.
Conclusion
Landon: Thank you and Community for being here today. Don't forget to join and follow XDao telegram and download it on the App store, I am sure that the community will be looking forward to XDao's event in the near future.
XDao: Thanks so much! It was an amazing AMA! So much feedback and interaction with users. We liked it 
Landon: We have another event for the community. Follow me to get a chance to receive the reward and explorer the Ecosystem. Thank you to the Near Foundation have helping Nearity to support projects Best regards to all of you, and thank you for your presence Goodbye!
You can listen to the Recording of the AMA:
https://twitter.com/xdaoapp/status/1585979930319368192
XDao             Twitter |  Telegram  | Website  | Discord | Instagram
Aurority       Twitter | Telegram  | Website  | Instagram | Facebook
Nearity         Twitter | Telegram  | Website  | Instagram | Facebook